Oftentimes, travelers to Hawaii visit more than one island after flying all the way. I haven't seen the other Hawaiian Islands, but I feel very confident to claim that Kauai must be one of those or even the only one you visit. I personally wanted to visit Kauai only since I thought I'd fall in love with the place and explore as much as I can, which happened to be the case in our 7-days trip.
In this article, I will suggest a 3-day itinerary for my favorite places on the island if you don't have much time. For those of you who can spend more time, I will continue suggesting other things to do for a longer itinerary. Almost all the places I mentioned in this article are saved on this public Google Maps list which you can download on your phone before going there.
For those who are interested in reading more of a travel journal, I will post another article soon.
3-Days Itinerary
Day-1: Start in the north, the best of the island
The most picturesque place in the island in my opinion is the north, namely the Princeville, Hanalei and Haena State Park areas. From any point in these areas, you can see the Na Pali Coast branching into the land with a glorious tone of green and magical waterfalls scattered around.
Start your day with a morning hike in Queen's Bath. This is a tidal pool area with great views and some natural pools. Going down the pools through the rocks is not too difficult even for less experienced hikers if you take your time. The more you jump on the rocks towards the west of the coast line, the better the view gets. Budget 1-2 hours here if you'd like to enjoy the morning tranquility here or swim a bit rather than taking a few pictures only.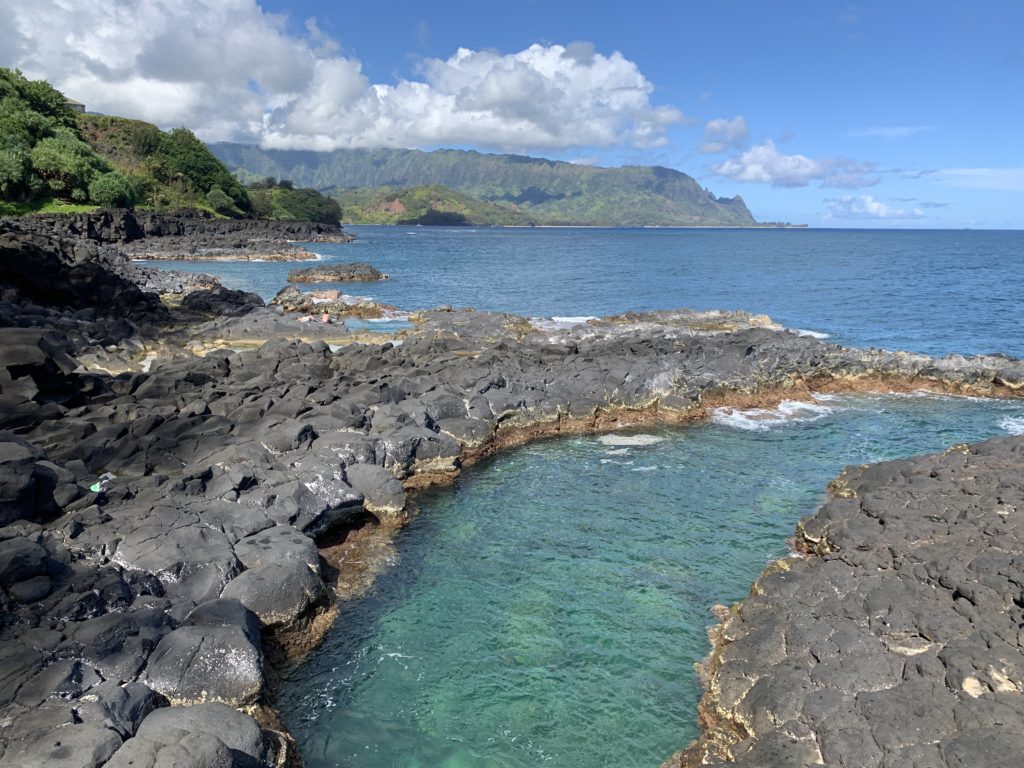 The other main attraction of the day will be Haena State Park, but before that, stop by at Hanalei Pier for about an hour. This is my favorite beach for swimming since the bay crushes the strong waves of the ocean and the bottom of the bay is not rocky at all. Hanalei also has a small town, probably my favorite on this island. We loved hopping across the shops and the giant smoothie bowl at Aloha Juice Bar worth every minute of wait time. The town also has amazing views of Hanakoa Falls, can be photographed best from the soccer field of the town on a sunny day.
This rule may be updated at some point, but currently Haena State Park is one of the rare parks on the island where you need to reserve a spot in advance. Reservations open up 30 days in advance on this website at 12 AM Hawaiian time. I woke up at 5:55 AM in New York to book a parking entry and 4-people entry pass, and they were all gone by 6:02 AM. So the competition is fierce. You may be lucky to find shuttle bus entry which is $35 per person if you couldn't reserve on time, but it's way better if you can flexibly drive with your own car.
Haena State Park is one of the best hiking trails on the island that offers amazing views of the coast. We wanted to catch the sunset and booked a 4:30 PM entry time. The Kalalau Trail takes you to one of the most well-preserved beaches on the island, Hanakapi'ai Beach, in less than 4 miles round trip in about 2 hours. The trail itself is 11 miles long and takes you to a waterfall by the coast if you continue after the beach. It is supposed to be quite dangerous from time to time and you also need a permit to continue after the beach, but I am not sure how that'd be checked. We would normally try, but wanted to get back to our car before it got dark, so went back after spending some time on the beach.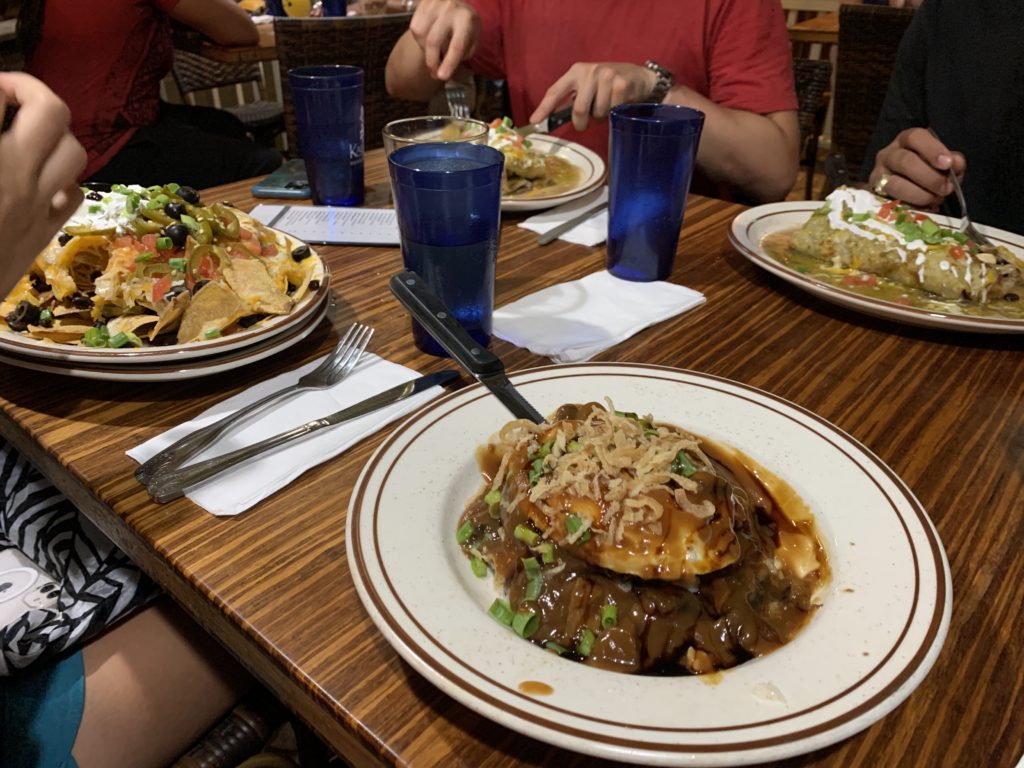 I recommend booking an earlier slot so that you have more time to complete the hike or spend more time in Hanakapi'ai. Another optimal agenda could be completing the hike as much as you want in the morning or afternoon, going back to the beginning of the trailhead which has another beach called Keepe Beach, and perhaps going back on the trail just before sunset. There are some nice view points for great photos only 20 minutes into the hike.
On your way back, stop at Hanalei town again since this is the only place you can find places open until 9-10 PM if you're planning to eat out. We had dinner at Calypso, which had very large portions and really tasty food, a trophy for a long day of hiking.
Day-2: All the way to the west, the Grand Canyon of Kauai
My second most favorite part of the island is Waimea Canyon and its intersection with the Na Pali Coast. You'll read it everywhere as the "Grand Canyon of Hawaii" which I believe is a fairly true statement. Waimea is next to another great state park, Koke'e, which offers the best outlooks of Na Pali coast reachable just by driving.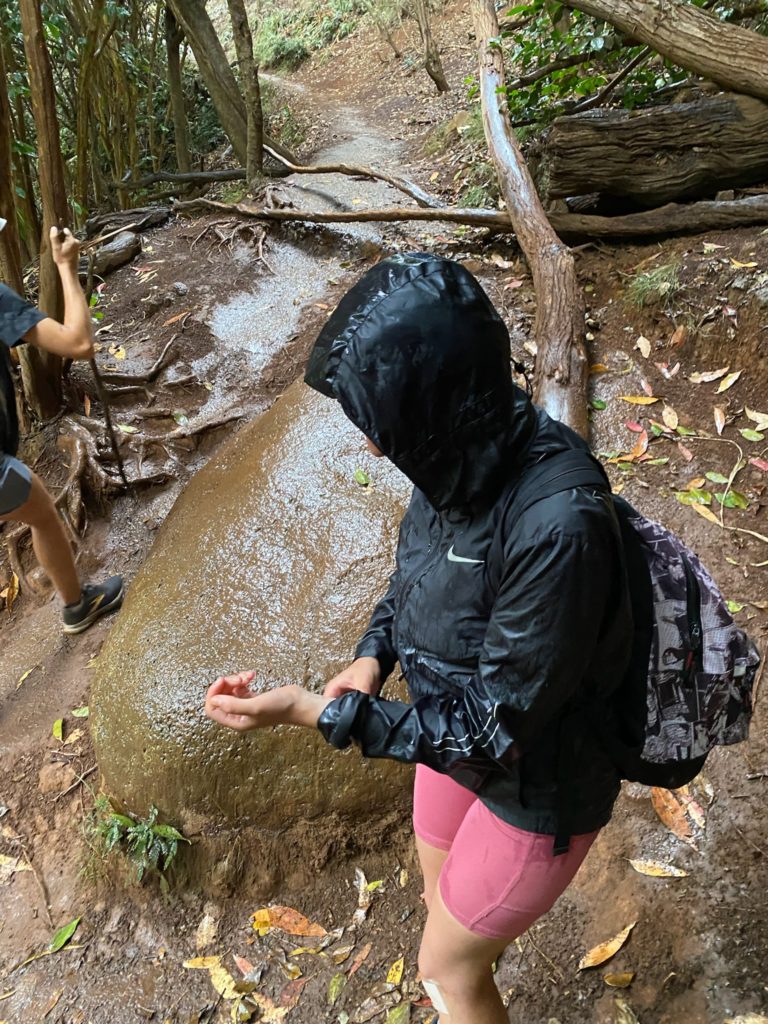 If you trust yourself in hiking, the most rewarding hikes in the area are Awa'awapuhi Trail and Kalepa Ridge Trail which end at amazing viewing points of the coast. We wanted to do a moderate hike, and took the popular Canyon Trail at Waimea Canyon. This hike is also breathtaking, definitely moderate more than easy since it has many uphill and downhill sections, but not unsafe at any point. This trail ends at the famous Waipoo Waterfall. From afar, you see the waterfall as a long and thin string. This hike takes you to one of the sections of the waterfall, which is more of a small pool with a nice view of the canyon. Be prepared to have your shoes and clothes covered in dust – or mud if it starts raining a bit on the way back which was the case for us.
The best two lookouts at Koke'e are Kalalau and Pu'u o Kila. If you want an easier but long hike, Pihea Vista Trail also offers great views, but it won't be significantly different from Pu'u o Kila lookout.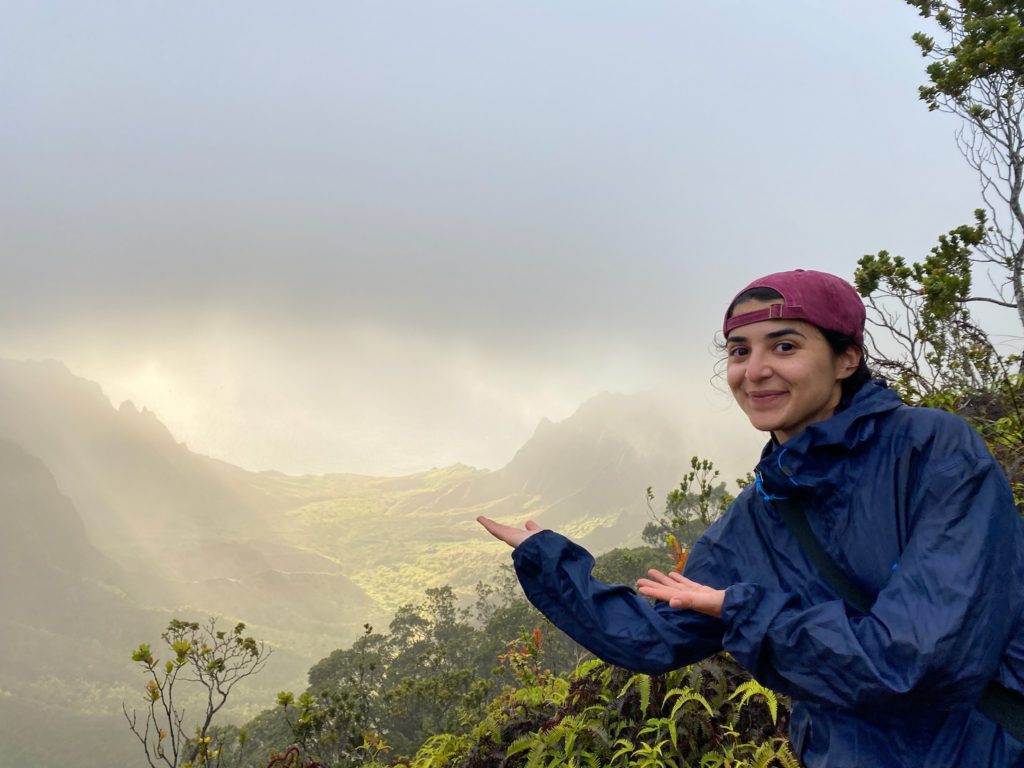 Depending on how much time you spend here, you can aim a good sunset over one of these hills or finish your hike during day time and head back south. On this side of the island, there is another state park called Polihale State Park. This is one of the most popular sunset spots with a very long and sandy beach. The entrance to the park is recommended only for 4×4 vehicles, hence we drove until there and headed back to another beach in the south. Also, don't try the Barking Sands Beach next to Polihale, you'd end up driving around until you realize it is only for military access.
If you need a break between the canyon and the sunset spot, you can stop by at Waimea town to try Jojo's shaved ice. If you are driving back to the East, you can also aim to finish your day at Poipu Beach, my favorite sunset on the island. For an early dinner, you can go up to Kapa'a to catch the wide selection of food trucks and cute little restaurants before they all close by 9 PM. These combinations are really dependent on how much energy you have and where on the island you'll stay, so I'll mention some of them for Day 3 as well.
Day-3: Finale with a bird's eye view
The two most popular attractions on the island are helicopter tours or boat tours. We did both and if you have limited time, I definitely recommend the helicopter tour, despite being pricier. I share more about why I think so in my detailed travel post, which will be published soon.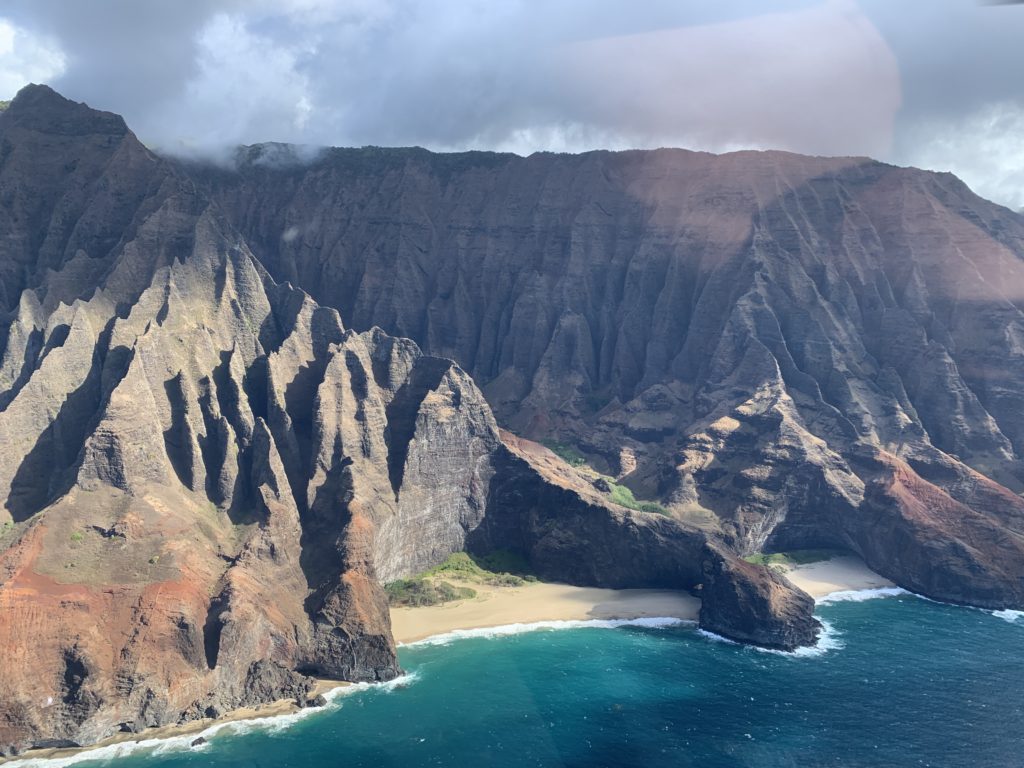 Having the helicopter tour on day 1 and visiting other places on other days is also an option. I liked having the tour on my last day, which was a perfect finale and sort of a farewell to this magical island. I also liked seeing places I've been before from a bird's eye view more than vice-versa.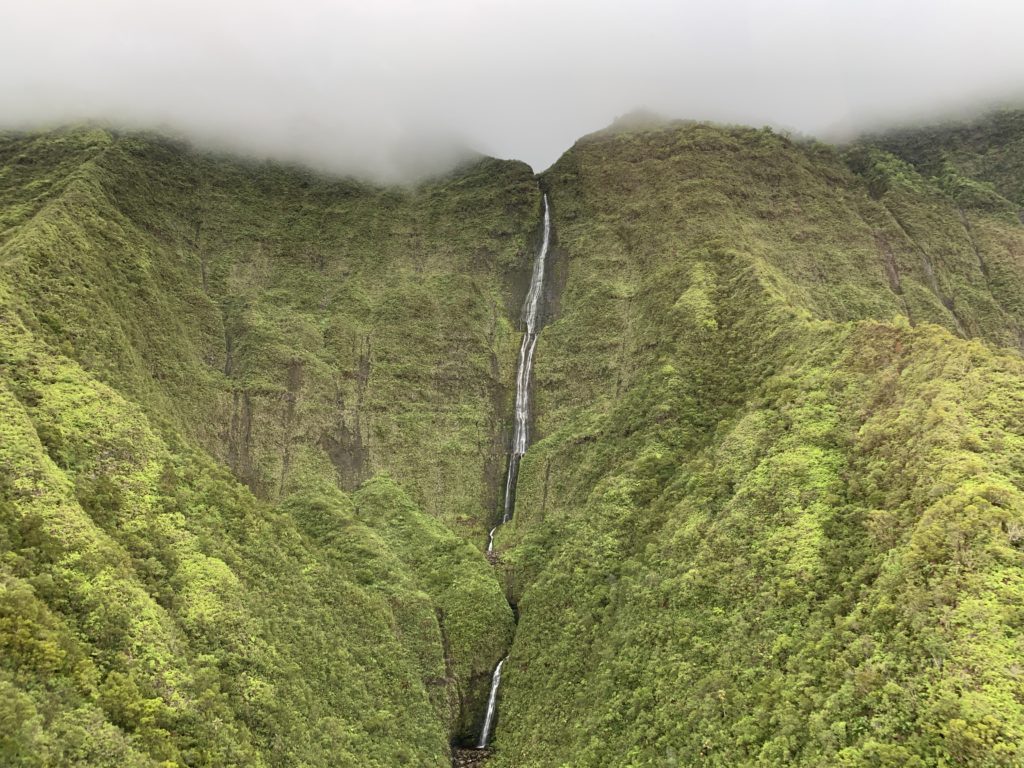 The cheapest option for a helicopter tour currently is Island Helicopters for $234. We decided to do this tour a bit last minute, so they were fully booked and we went for Sunshine Helicopters for $295 per person. As far as I know, the ones at this price point include a landing at a viewing point as well, which was not the case in ours, but with all the views you see from the helicopter, I don't think any company can go wrong with the tour. If you have limited time, it may make sense to book the tour in advance, and talk to your agency whether they're flexible to reschedule based on the weather conditions. If you have only one sunny day out of your 3-days in Kauai, hopefully you can shift the tour to that day. If you have about a week, it would make sense to arrive and make a judgment call based on the weather estimations, and try to book for the most ideal day. Having said that, we were showered with short durations of rain at times that looked sunny the whole day or had straight up sun for days with 50% chance of rain. So plans in Kauai are a bit based on luck.
What can I say about the helicopter tour? It is just another way to experience how unforgivably beautiful this island is. Most of the tours depart at Lihue Airport and take about 1.5 hours with check-in and everything. You can combine this experience with visiting Wailua Falls, Mahaulepu Trail, Poipu Beach or visiting Kapa'a town. Assuming you did your tour in the morning, you can head up to Wailua Falls. This is one of the most iconic waterfalls in the island – after the Jurassic Park one you saw during the helicopter tour. Unfortunately, you can see Wailua Falls only from the top. There is an "unofficial trail" that goes down to the waterfall with a bunch of warnings about how slippery and steep this way is, but we saw a few people who made it to the waterfall and were swimming peacefully. If you are confident, give it a try.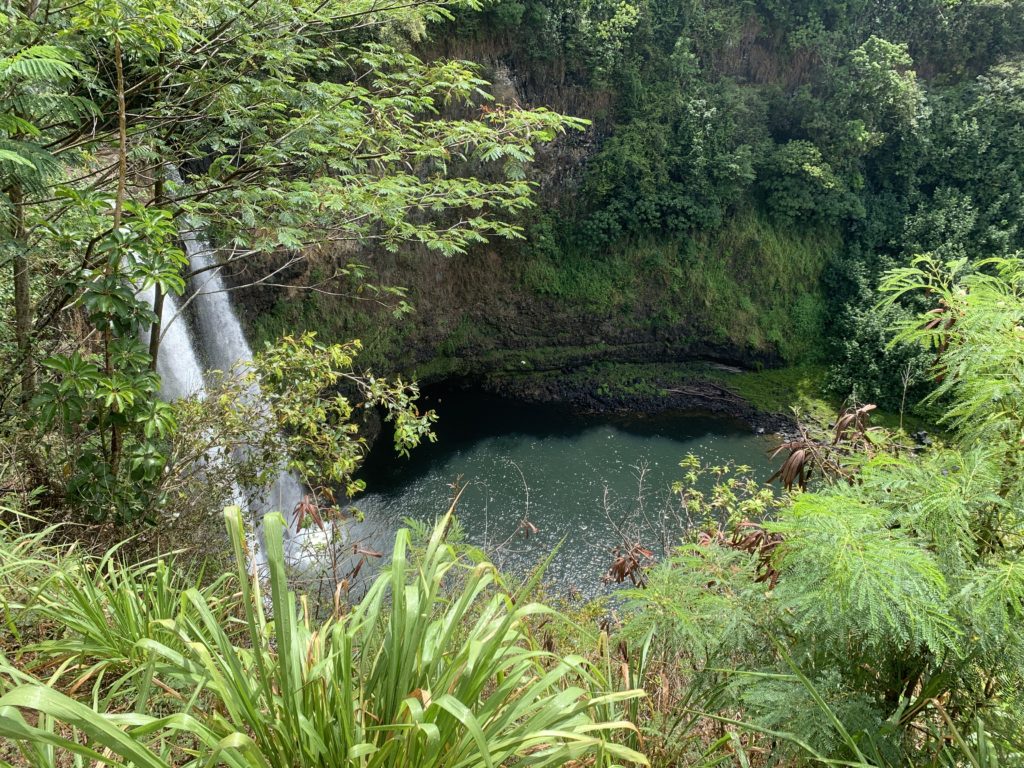 Very close to Wailua Falls, you can drive north to see Kamokila Village and Opaeka'a Falls. This is a very unique outlook with a river surrounding a deeply green mountain. It is possible to visit a village site or take kayak rides on the river, but we didn't.
Assuming you went there only for the views, you may still have some time to see the Mahalapau Trail. This trail goes by a sea shore that has magnificent cliffs and a beach with black volcanic rocks. It goes beyond the beach, but because you pass by a golf course built on swamps, we were attacked by flies and literally needed to escape the area. The most scenic part of the trail is the cliffs just above Shipwreck Beach. If you don't have time, you can skip the trail and just see that, but the part of the trail until the volcanic beach is also quite scenic and has a very unique flora.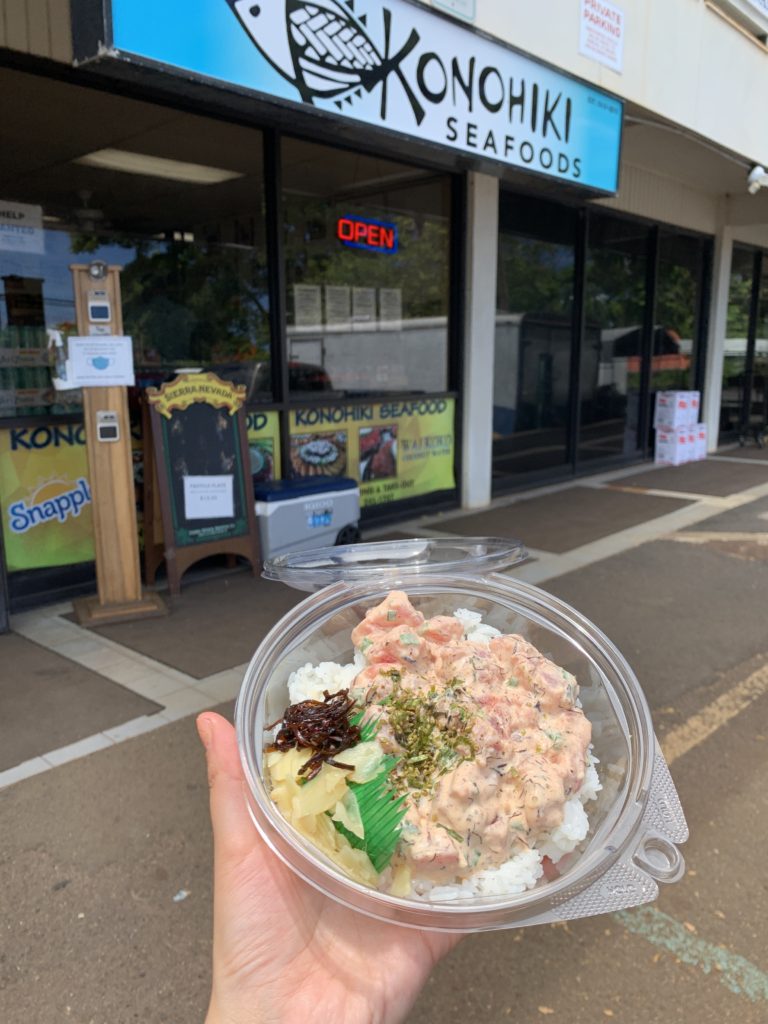 If you have time for a sunset and have not done it yet, definitely finish the day at Poipu Beach. The sea was very wavy and was not great to swim in, but the palm trees on the horizon make a great picture when the sky turns red and purple (the cover picture of this post). If you want a quick stop for food, our favorite poke bowl in the entire week was from this little store called Konohiki Seafood.
Depending on how you picked and pieced these parts together, you can consider a few food and shopping options in between. You'll be very close to Kapa'a town if you haven't seen it. We stayed in Kapa'a and had lots of time to explore this town. It is the most lively place on the island and has so many good stores. You can easily spend a few hours checking out the stores and trying out local food here.
3 More Days in Kauai!
Day-4: The North once again, you'll need more of it
Since we had more time, we didn't follow the exact 3-day schedule I suggested so far. So the suggestions for the other 3 days may make more sense to swap with some other things I already mentioned, all depending on your own logistics.
The part of the island that you'd probably want to visit over and over again is – again – the north. Princeville is the most "posh" neighborhood with more honeymoon-type-of condos and resorts. The northern edge of the island has the beatiful Kilauea Lighthouse, very scenic with the birds flying around it. Just driving around Princeville, being mesmerized by the views, but then seeing a random Poseidon Sculpture makes the sightseeing "an experience". We stopped by Princeville Center to see the cute little shopping center of this town, and tried Lappert's Ice Cream. Their macadamia nut flavors are amazing and the waffle cones are the best that I have had in recent years. Definitely worth waiting in line.
I want to emphasize how much I liked the little Hanalei town. It is not as big as Kapa'a, but I found the ultimate vintage Hawaiian shirt here, so the shops in this town will have a special place in my heart. You'll probably get the biggest smoothie or acai bowl you'll ever have in your life at Aloha Juice Bar. We explored everything from talking to a local artist to trying different ukuleles in the music store. Just after the rain, the waterfalls on the Nāmolokama Mountain glowed with their utmost beauty, that view is also very difficult to stop staring at.
My second favorite sunset was from Tunnels Beach. This is right after Hanalei Beach, definitely a lot more secluded and less crowded. The name comes from the giant cave across the beach, which is a fun place to explore. The sun sets right at the tip of a beautiful mountain. You could easily spend hours at this beach watching around, maybe taking some wine and snacks as we did. Hanalei Beach is also supposed to have a terrific sunset, but we didn't make it there for another sunset. In my opinion, being one of the few people in Tunnels Beach and seeing the reflection of the sun directly on the waves is probably a better experience.
Day-5: Kapa'a excursion, biking and other random beaches
Staying in Princeville would give you the best views, but I'm still glad that we stayed in Kapa'a. We wouldn't spend as much time as we could to explore the town and go on Ke Ala Hele Makalae biking path. This 7-miles round-trip is very scenic and easy, excellent for fun bike rides and running. Almost every day, we started the day running or biking here. If you were woken up by the roosters just before the sunset, the beach was only a few minutes walking distance to our Airbnb, and you'd find it surprising to see many people up by the beach. Shout out to our Airbnb providing all of us bikes for free!
Kapa'a offers great food and shopping options from souvenir shops to more artsy stores, music instruments to glass blowing, skate shops to outdoor clothing. My favorite part of the town is the food options. The food trucks are very cute and offer a very wide variety of cuisines. Since they close relatively early, around 7-9 PM, we couldn't make it back on time to try most of them for dinner, but only had lunch from a few of them. My favorite was The Musubi Truck. Their musubi is such a simple but tasty and nutritious option. If you go there in the morning, you can also try local food like lau lau or local pastries at Pono Market and Pono Bakery. They are out of many things as early as 10 AM – even the pork lau lau.
On the way back home, mostly in the south, we stopped by a few random beaches. We mostly just walked around, or got some beers from a town and grabbed a table to watch the sunset. Two that we stopped at were Salt Pond Beach Park and Kekeha Beach Park. These spots are not must-see, but my point is, you can just drive to whatever beach, and most likely will have a great time. All the beaches we've been to had drinking water and restrooms as well, which made it way easier to be out the whole day.
On one of these days, we had dinner at Kauai Island Brewing Company. The food was good, not exceptional, but we had the chance of listening to ERrt band and chat with them a little. Kauai doesn't offer a bustling nightlife as you may expect from other tropical paradises, but it's possible to find surprise music performances or hula shows. You can look up Says band, this hula show and also this old town festival.
Day-6: Boat tour, Nawahili and other random things
Another great way to see the Na Pali Coast is by the sea. I had many boat tours in Turkey and more adventurous kayaking and snorkeling type of activities in Southeast Asia. So my expectations from the boat tour were very, very high. In the beginning of our trip, we decided to do a boat tour only rather than the helicopter tour, also without much motivation to spend hundreds of dollars for multiple touristy activities. There are many options to spend time on the ocean, from half-day dining and sunset watching cruises to more adventure rafting tours – which was the one we took. The small boats in rafting tours allow you to go into sea caves along the coast, which was a big draw for me, so we decided to take that one.
We booked the tour on the first day we arrived at the island, and even then, there was availability for 4 people only the day before our last day in our second-preferred boat operator. So, if you are interested in any boat tour, try to book in advance, they probably would reschedule if the weather was too bad anyway.
We booked a Na Pali Pirates rafting tour for $200 per person. The tour starts from the southern part of the island. 14 people sit around a zodiac boat, riding towards the northwest to see the Na Pali Coast at full speed and holding the ropes tightly for dear life. Best definition of this tour was a 3-hours long rough roller coaster ride. Sometimes it was fun to feel like flying over the waves, but in general, whenever it stopped every 15-20 minutes, your hands holding the ropes and your butt constantly slapped by the waves would curse at you. There were people from all ages in our group, including a kid and a few fairly old people, but this is definitely not an experience if you have an orthopedic condition or just don't feel in the best shape to hang onto the edge of a boat for a few hours. Definitely no if you have motion sickness or get seasick on boats.
The part that I loved the most about this experience was, as I expected, the sea caves. The atmosphere is like being in an Indiana Jones or Pirates of Caribbean movie. You'll be amazed by birds flying over your head into the caves or if you are lucky, see a sea turtle swimming next to you like we did. The second best part is snorkeling. We couldn't go to the favorite spot of the tour company since it was too wavy there, so the reef was not bustling with colorful fish, but it was possible to see some.
However, a big drawback was how big of a survival the entire activity was. They would tell you on their website that you should pack extra batteries for many nice pictures, but in reality, you hardly find a stable point where you feel comfortable enough to take your phone out, and you probably stop there 5-10 minutes maximum. You also have a very obstructed view if you are not the one sitting at the very front of the boat and do not have much space to walk around, even if you felt safe to do so. We did have great views, an amazing tone of blue, and visited cool caves, but capturing those moments is important for me which was unfortunately not possible on this tour. Second drawback is, as I said, despite being fun at some points, the ride itself was very shaky and I felt very dizzy after completing the 3 hours on the boat. In general, I don't recommend doing this tour at all.
Another random place to explore in the southern part of the island is Niwahele. We went there to kill time before heading for our flight since we were took the helicopter ride from the airport on our last day. I'm not sure if this article leads to a big change on this front, but resorts in Hawaii seem to be quite chill about their entry policies. We were able to just walk into the Marriott Vacation Club from Kalapaki Beach. I always mock people who go to paradises like Hawaii or the Yucatan area of Mexico and spend most of their time inside a resort, but after a long week, the luxury of this pampering place did really feel good. We chilled there with the nice views for a while and then had dinner at the very nice Duke Restaurant by the beach. If we had the energy, we could totally jump into their pool and enjoy jacuzzis. The views of this part of the island were also great, you have a smaller mountain range right across and palm trees look really nice during sunset.
We spent almost 7 full days and did all these in a very relaxed manner, with a bunch of random lookouts I haven't mentioned, taking photos with our matching Hawaiian shirts or starting a bonfire at our Airbnb. The more you have time, the more of a relaxing paradise Kauai would get. I love traveling, but oftentimes, I feel fulfilled and ready to head back home at the end of the trip. Kauai was definitely not one of those. If I could, I would stay way longer. The day on the island starts as early as the sunrise. If you have the opportunity to work remotely and budget to afford accommodation here, especially for those who work in Pacific Time, Kauai would be the perfect spot to do that.
As I said in the beginning, I will soon write a shorter article including more of my personal journey on the island. Hope you get to see this beautiful place.